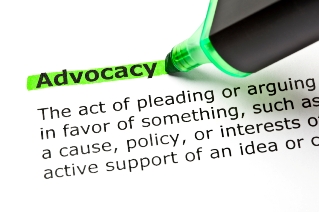 In the past couple of weeks, I've been teaching an "Empathy and Empowerment" presentation about how to support, relate and assist infertility patients on their journey. Yesterday, I spent a good portion of my day doing these sessions that includes many different elements of empathy, how to support and be sensitive to someone dealing with infertility and I include a list of things to NOT say to those going through infertility treatment (i.e. "God has a plan, be grateful for what you have, maybe there's a reason, don't give up, etc.) I also get into making sure that patients feel empowered to take an active role in their fertility treatment decisions (we tell people about the success rates of IUI versus IVF, etc.) I take great pride in not only making the "fertile world at large" aware of the impact infertility can have on an individual or couples life but also, how they can help
not
say something that will get them punched in the face.
As I headed home at the end of the day feeling positive, I got a comment on my blog from someone who called themselves, "Unknown". It said,
"I have ready many of your posts as well as your piece on Recombine's site. There are a few different definitions of Infertility but bottom line is that one who is truly infertile cannot conceive. You have two children. Can you really speak for those of us who are unable to have children? You say to find humor in it, I haven't yet."
To be blunt, my first reaction was annoyance as I felt like someone just pooped on something I'm passionate about. However, I decided to practice what I preach, be empathetic and publish the comment so I could respond. However, when I went Blogger to approve it, the comment disappeared. I have it in my email which is why I'm able to still have what it said. So I'm writing this post to share it (as this person clearly did want this to be shared/read) but also because I'd like to address it.

First, to "Unknown" directly: I'm so very sorry to hear things have been unable to conceive AND that this has been so tough. It's not fair, it makes little sense and I can't even imagine how incredibly frustrating this journey (or rollercoaster) has been for you. I thank you for bring this important point up and for your honesty.

Second, I'm going to try to explain why I remain an infertility advocate despite the fact that I do have two kids. Please know that this is something I even asked myself and even went through a period where I struggled with how to proceed in the infertility world so I'm happy to share my reasoning.

There's a well-known and vocal infertility advocate named Carolyn Savage who I've had the honor of connecting with. When I was pregnant with my second child, I asked her about whether anyone who had kids could be an infertility advocate. She said to me, "Of course. That's like saying anyone who survived breast cancer can't be an advocate for it." That resonated with me… but still I grappled with my advocacy role.

After a few weeks, something hit me that changed my mind and has kept me going since. When I was deep in the trenches, I was EXTREMELY private about how I couldn't conceive. It was several years of not telling my family, friends, and co-workers. That' why I started this blog. To privately have an outlet because I felt so guarded and quite frankly, ashamed. I felt like a huge failure and literally every time I'd get my period or fail an IVF cycle, I'd spend days in bed not talking to anyone being depressed.

If any of you know me (and some do), my guess is you'd describe me as boisterous (i.e. LOUD! ), outgoing, jokey and hopefully, good hearted New Yorker (but not as rude). When I was going through those years of treatment though, I was not any of those things. I avoided social situations, distanced myself from friends who had children or who were pregnant and stayed home silently wondering what was going to happen, how I was ever going to pay treatment or how I could get out of any event where someone was going to ask me why I don't have kids yet.

Now here's the thing "Unknown" – Right now, there are many, many people in the position I was in then. They are private about their struggle, they are perhaps depressed, they are not their usual selves, and they too feel like they can't be open about what they are going through. They don't want to share their story because they are understandably protecting themselves. Perhaps that's why you even used "Unknown" and not your real name, which again – I understand.

For me though, its years later and I'm in a place where I can raise awareness about infertility, share my story, write for (as you mentioned) Recombine, Huffington Post and Time Magazine about infertility rights and coverage. I can go on CNN or go to Washington, D.C. to talk to Congress about increasing fertility coverage for those, who like me, had none. While someone is somewhere at home dealing with this journey, I'm putting myself out there, using my real name where everyone (family, friends, foes, the public at large, etc.) can support me or judge me, judges what I'm saying and in the case of some of my Huffington Post pieces, make comments like, "It's selfish to do infertility treatment. Just adopt." I do this though to speak for those who currently can't. My goal is make this medical diagnosis known, to raise awareness, support and real benefit coverage and in the process, raise the level of sensitivity around the topic.

I also know there are many like me in the infertility community who do go on to have children that find themselves in a tough spot. We were formally diagnosed with infertility. That was three doctor's opinions in my case – I have poor egg quality and infertility and that was certainly the CPT code used on all of my medical treatment. However, the debate remains that if you do go on to have children, even if it is, in fact, through fertility treatment, are you still considered an infertile? I hope you'll all weigh in on that in the comments section as I know there are varying opinions on this.

On this note though, what I would like to ask Unknown is would it be better if I was active in the infertility community and then as soon as I had kids, I left and said, "Ok, thanks! Bye!" To me personally, that's worse. The community supported me when I needed it and now it's absolutely my turn to support those who need it. Whether you think that's wrong or right, I don't have it in my heart to just peace out like that.

Also, on the note of humor, I volunteered for several years at Gilda's Club. As you may know, Gilda's Club was named after Gilda Radner, a very well-known and respected comedic actress who was diagnosed with Ovarian Cancer. Her husband, Gene Wilder, who also just recently passed away, said that Gilda Radner kept her sense of humor throughout her grueling treatment and right up until her death. When I volunteered in "Noogieland" which was the children's department, one of the main overall objectives was to use humor as a coping mechanism. It doesn't dismiss the horrible issue you're dealing with but it can help buy you even moments of sanity. It also, I hope, takes away infertility's power… to make fun of it and show, "I can laugh at you so f*ck you!" I'm certain not everyone sees it that way but given your options, laughing at it or letting it kill your sense of humor, I'd suggest trying to laugh at it every time.

Here's the bottom line: Anyone who wants to be unhappy with me, my journey, and my sense of humor absolutely can. I'll even connect you with a few ex-boyfriends if you'd like to talk smack about me. You can hate that I did end up having children as quite frankly, I can imagine that I might feel similarly. What I can only hope though is like me or not like me, you still see that I am doing all I can to help bring attention to this issue that affects one in six, and somehow do my part to help make things better for those who are going to go through treatment or for those going through treatment right now. I would hope that even if you don't like me or get me, you'd at least respect that.

All of us, whether in the infertility closet or not have the power to make a difference. Whether we send a letter to our local Senator or HR Department about the importance and need for fertility benefits, whether we create an anonymous profile on Twitter or FertileThoughts or any other support forum you like to help support and share information with others or even if you educate just one person about infertility – that it exists, we all can be an infertility advocate in a way we choose and that we feel comfortable.

So, Unknown – I do have children and I apologize if that or my sense of humor has hurt you in anyway. If you at all feel comfortable though, I'd encourage you to do something that does make you feel empowered by helping the cause. I will never stop being an infertility advocate. Instead, I hope you join me and become one as well.