"Incompetent Cervix," "Spontaneous Abortion." and "Failed Pregnancy." For those like myself who have dealt with infertility first-hand, these terms can compound feelings of failure. While they are medical terms commonly used when you're trying to conceive, and you're not able to, such terms can be an added blow to an already sensitive situation.
Just in time for National Infertility Awareness Week (April 18th – April 24th), Peanut and Chrissy Teigen, cookbook author and television personality, have launched an initiative to reclaim the terminology used around trying to conceive, pregnancy, and motherhood launched The Renaming Revolution.
Peanut and Chrissy have taken on outdated and potentially hurtful terms to offer more sensitive and thoughtful terminology in partnership with top linguists and medical professionals.
Words Matter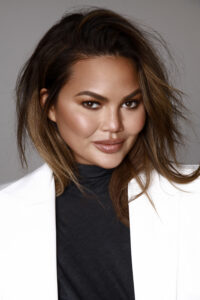 Before Chrissy deleted her Twitter account, she had shared a gut-wrenching video that had surfaced on Peanut about a woman whose doctor used the term "geriatric" to describe her medical standing if she were to get pregnant after the age of 35.
"A huge reason I have spoken about my personal experiences publicly was the immense need to destigmatize the way we talk about all stages of motherhood," said Teigen. "When I saw the woman sharing her own story on Peanut, it made me realize so many women everywhere are made to feel shame or undermined, just like I did, and that has got to stop. I'm so hopeful with this new project we are working on, and I can't wait to see real change come from it."
This post sparked a viral discourse (with over 2.1K Twitter engagements) on the stigmas associated with each stage of motherhood. The viral thread then continued on the Peanut app, where hundreds of women joined the conversation sharing the terms they experienced, resulting in over 200,000 interactions.
This sparked the idea for the glossary. The intention is to replace terms that have traditionally been perceived as descriptive necessities when labels make women feel guilt around their own bodies and experiences.
Several doctors have also come together to create this new glossary. They include Amanda Montell, a celebrated author and language scholar; Dr. Viviana Coles, Doctor of Marriage and Family Therapy at Houston Relationship Therapy; Dr. Somi Javaid, OB/GYN doctor, surgeon, and Founder of HerMD; and Dr. Jessica Zucker, psychologist and author specializing in reproductive and maternal mental health.
Raising Awareness And Educating Others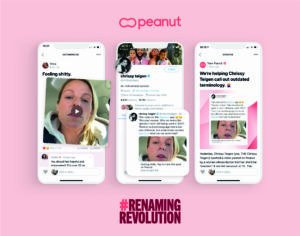 Now more than ever, women are seeking support amid feelings of isolation and loneliness. According to Peanut, 55% of women surveyed have been struggling with mental wellness since last March. Changing the vocabulary used to describe our own bodies is the first step in reshaping this conversation into a more positive and supportive space.
The Renaming Revolution glossary has been released as a free guide for everyone who wants to create the change needed to talk about fertility and motherhood. It will also be distributed to doctors' offices, clinics, classes, and more around the country to encourage stigma-free discussions in all settings.
This hope is that an update of these terms will empower women and allow them to take back agency over their fertility and motherhood journeys, no matter what those journeys may be. If you'd like to request one, you can click here.